Nestled in the Cotswold Hills lies the small, but the busy village, of Bourton on the Water. There are many attractions in the village and the one that we shall look at is The Cotswold Motor Museum. This is a brilliant little museum that specializes in the vintage age of motoring with some rare objects thrown in. It also features a very special star, Brum. Brum is a small vintage car who escapes from the Museum and goes to the "Big town" where he has a series of exciting adventures.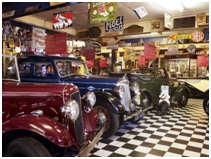 The Museum like many others is laid out in chronological order of the development of the Car. Starting with the earliest piece and then moving through the ages ending at about the middle '60s. The collection is set in an old mill that used to service the town's flour and bakery. It was the work of one man who then sold it to the Civil service motoring association. The focus on the Museum is nostalgia. It does not try and ask serious questions about the nature of motoring or go into the collapse of the British car industry as Coventry Transport Museum and Gaydon do. Accompanying the Cars; it has lots of antique brick-a-brack and quirky items that people would have had in the home. Mostly these are pieces to do with motoring but there are other examples of past games and homeware such as the first world war tank teapot.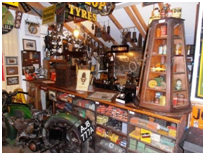 One of the finest exhibition pieces is Jack Lakes Garage. Jack was a real local man worked as a chauffeur and then went on to own his own garage. Whist he would have benefited from some modern Boltless Shelving like the type found at www.rackzone.ie/shelving/industrial-residential-shelving here the museum has used real pieces from the past. This offers a wonderful link for visitors as this is not based on some fictional characters. Visitors are able to see the work that Jack did with some old photos and read a profile.
The Museum also has a Star Car feature. Here, on a revolving turntable, a particular featured model is exhibited on a changing basis and the gallery styled to suit.  After that, there is still more to see in the Aladdin's cave of the toy gallery. Here the Museum has a plethora of Children's toys dating back to Victorian times. There is far too much temptation to start playing with the assorted tanks, planes, and go-karts but unfortunately, this is not allowed. Finally, there is the modelmakers gallery. A work desk and room have been set up to illustrate the pleasures of car and train set model making.
With a nicely appointed shop and cheerful staff, this is a wonderful addition to Bourton attractions